This is a solution for the French TV channels on Hotbird, specially arranged for communal TV where a shared dish is used by everyone, including a 12M French BIS TV viewing card for BIS TV Channels on HOTBIRD, also Ideal for use with BeinSport options.
This is an alternative to the French TNT SAT on Astra.
If you live in a building block and you have a shared Sat system that includes HOTBIRD, this is your best option for French TV,
Note: Please check with your building management, if your shared dish includes Hotbird Satellite BEFORE you order.
Included in this package :
HD Satellite Box Communal Compatible
12 Months Official BIS TV Card (Basic Panorama)
NO DISH REQUIRED
1 HD Lead
Power Adaptor
Connectors
12 months on-site warranty
BIS TV 12 Months viewing card for the French TNT Channels
---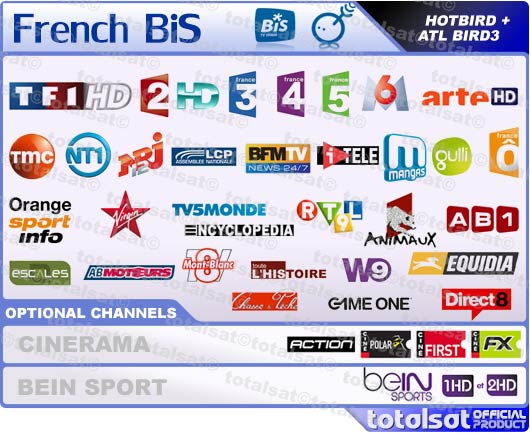 BIS PANORAMA CHANNELS LIST
TF1 HD
FRANCE 2 HD
FRANCE 3
FRANCE 4
FRANCE 5
M6 HD
ARTE HD
W9
EQUIDIA
FRANCE O
DIRECT 8
TMC
NRJ
LCP
BFM
TV5 MONDE
GULLI
RTL9
AB1
AB MOTEUR
ESCALES
MANGA
NT1
VIDEO CLICK
CHASSE ET PECHE
TT L'HISTOIRE
TV8 MONT-BLANC
VIRGIN 17
ORANGE INFO SPORT
GAME 1
CINERAMA OPTION
ACTION
CINE FX
CINE POLAR
BEINSPORT OPTION
BEINSPORT 1
BEINSPORT 2
BEINSPORT 3