BIS TV 12 Months viewing card for the French TNT Channels PANORAMA + CINERAMA Compatible with any HD Sat receiver and a Viaccess Secure Cam
---
SEP 2021 UPDATE (Hotbird Only) Change of Frequency:
New Frequency / New TP: 12437 – Horizontal (H) – 27500 3/4 
Please add this new frequency to find the channels – This is a new frequency you must add it as a new TP (the automatic update will not work)
---
New Required Information for Activations:
AFTER, you have placed your order, take a note of your order number and go this page and fill the form there.
BIS TV France now requires more information from all new and existing subscribers such as: Box Make and Model, CAM ID. Without this information, it will not be possible to process your order. 
Bis Activation Form (link)
---
System Requirements:
Satellite TV System on Hotbird or Atlantic Bird 3 (5″W)
+ Satellite TV box with CI slot
Or Fransat Box
---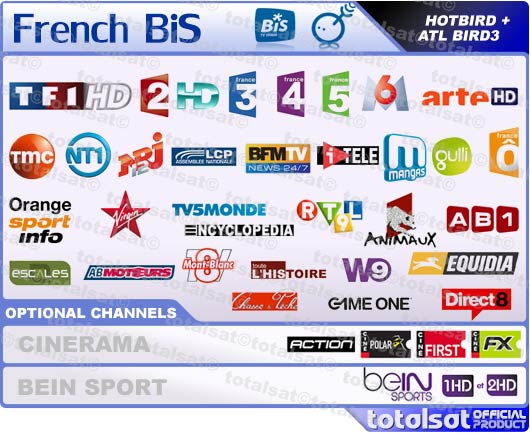 BIS PANORAMA CHANNELS LIST
TF1 HD
FRANCE 2 HD
FRANCE 3
FRANCE 4
FRANCE 5
M6 HD
ARTE HD
W9
EQUIDIA
FRANCE O
DIRECT 8
TMC
NRJ
LCP
BFM
TV5 MONDE
GULLI
RTL9
AB1
AB MOTEUR
ESCALES
MANGA
NT1
VIDEO CLICK
CHASSE ET PECHE
TT L'HISTOIRE
TV8 MONT-BLANC
VIRGIN 17
ORANGE INFO SPORT
GAME 1
CINERAMA OPTION
ACTION
CINE FX
CINE POLAR