BIS TV 12 Months viewing card for the French TNT Panorama Channels Compatible with any HD Sat receiver and a Viaccess Secure Cam.
---
SEP 2021 UPDATE (Hotbird Only) Change of Frequency:
New Frequency / New TP: 12437 – Horizontal (H) – 27500 3/4 
Please add this new frequency to find the channels – This is a new frequency you must add it as a new TP (the automatic update will not work)
---
New Required Information for Activations:
AFTER you have placed your order, take a note of your order number and go to this page and fill the form there.
BIS TV France now requires more information from all new and existing subscribers such as Box Make and Model, CAM ID. Without this information, it will not be possible to process your order. 
Bis Activation Form (link)
---
System Requirements:
Satellite TV System on Hotbird or Atlantic Bird 3 (5″W)
+ Satellite TV box with CI slot
Or Fransat Box
---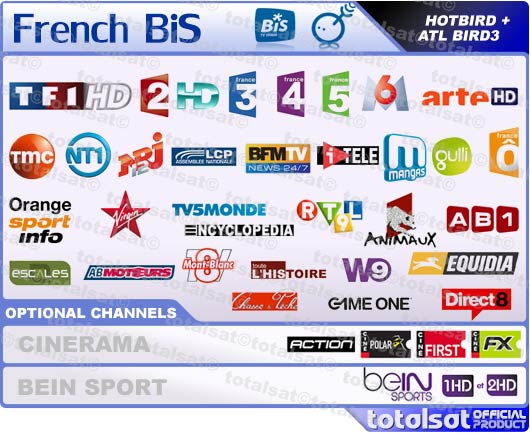 BIS PANORAMA CHANNELS LIST
TF1 HD
FRANCE 2 HD
FRANCE 3
FRANCE 4
FRANCE 5
M6 HD
ARTE HD
W9
EQUIDIA
FRANCE O
DIRECT 8
TMC
NRJ
LCP
BFM
TV5 MONDE
GULLI
RTL9
AB1
AB MOTEUR
ESCALES
MANGA
NT1
VIDEO CLICK
CHASSE ET PECHE
TT L'HISTOIRE
TV8 MONT-BLANC
VIRGIN 17
ORANGE INFO SPORT
GAME 1